OPERATION | REQUISITION | 06.03.17
---
Warped Ops and Airslplat present: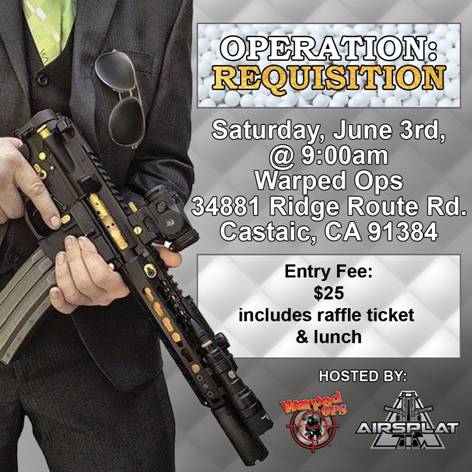 OPERATION: REQUISITION
SATURDAY JUNE 3RD, 2017
FREE LUNCH | EVENT RAFFLE!


REGISTRATION

Register Now
$25 REGISTRATION
---
Schedule of Events
08:00 – Gates Open
08:30 – Morning Orientation / Sign-in / Chrono
09:30 – Briefing and Deployment
10:00 – Scenario 1
11:00 – Reload
11:30 – Scenario 2
12:30 – Lunch Break
13:00 – Briefing and Deployment
13:30 – Scenario 3
15:00 – ENDEX
15:30 – Raffle
---
TEAMS:
Eastern Corp. (Green base uniform)
Western Inc. (Tan base uniform)
*Please try to match tops and bottoms, but we will have colored tape for all others*
Still reeling from the events of the Acquistion crisis and with Western Inc in possession of Warped Engery tech, Eastern Corp has begun preparing their private force for a last ditch raid on the highly secured WI headquarters compound.

Holding Warped Energy's CEO within their offices, Western Inc has increased the security detail within their compound anticipation of possible EC actions. The CEO is being treated well but has been "compelled" to sign over controlling shares and provide inside information into state of the art Warped corporate tech.
Using a paid informant on the Eastern Corp staff, AirSplat Contractors have learned of the impending raid. Determined to rescue their benefactor the Contractors intend to use the chaos of the raid as distraction to slip in a small team to extract the CEO from the Western Inc compound.
Eastern Corp and Western Inc are in a recruiting race to grow their forces as fast as possible. Who will finish first?
---
Event Specific Rules
All airsoft guns that ARE NOT classified as LMGs (e.g. M249, M60, M240, RPK, PKM, etc.) may not fire in full-auto. Only LMGs are allowed to fire in full auto during the event.
ALL players MUST bring at least one long bandage to the event (e.g. Ace Bandages or cloth tape bandage), measuring at least 2"(in.) in width and 2'(ft.) in length. These bandages should be carried at all times while on the field, as they will be used to "medic" players throughout the game.
ALL players UNDER the age of 18 MUST WEAR full face protection, whether it is a full face mask or combination of goggles and a lower face mask.
Team Leaders should be given the same respect as the game referees, and their orders should be followed at all times to improve the balancing and gameplay of the event.
ALL airsoft guns that ARE NOT bolt/ single action sniper rifles MUST fire below 400 FPS using 0.20g BBs. Our staff will be vigilant about chrono-ing every player's gun, and will be using our own 0.20g BBs to ensure accuracy. PolarStars and other tank powered airsoft guns must be able to have a tournament lock fixed in place to prevent the velocity from being adjusted during gameplay. NO exceptions will be made to this rule, and no players will be allowed on the field with a gun that doesn't pass chrono. To prevent any issues, check your gun's FPS in advance, and (if possible) bring a backup airsoft gun just in case.
There are NO magazine restrictions, however, due to the fact that most guns will be limited to semi-auto, we strongly encourage players using non-LMG airsoft guns to leave their box magazines at home. The box magazine will just make your rifle more heavy and noisy, so leave the box mags at home unless you have no other alternatives.
Airsoft sniper rifles ARE ALLOWED at this event, however, they must be single shot BOLT ACTION with a MAXIMUM of 550 FPS (w/ 0.20g BBs). DMR style semi-automatic rifles firing OVER 400 FPS (w/ 0.20g BBs) WILL NOT be allowed.

---
---
Save
Save
Save
Save